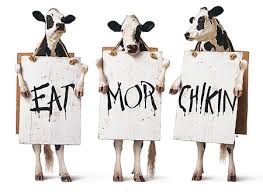 In case you missed it, there was a rumor last week that a Chick-Fil-A was going to Siler City. Absolutely everyone in the entire county was excited at the thought of yummy chicken, waffle fries and of course Chick-Fil-A sauce.
Tragically, it has now been confirmed that there are no plans to open a Chick-Fil-A restaurant here just yet. For the moment, you'll have to get your chicken fix at Bojangles, which is still pretty good.
Who's going to open the first Chick-Fil-A?! I will personally eat there once a week for the first 3 months.
Local real estate agent Eric Andrews gives us the most recent Chick-Fil-A news: